Once again, we've got some exciting news to share with you here at Carman Friend. This time, we can boast about some pretty impressive statistics straight from Rightmove.
The Chester estate agent market is a rapidly growing one and we're really proud to be a part of it. So, in today's blog post, we thought it was only right that we share some exciting news with you all! We've recently been sent some data from Rightmove that made us want to shout from the rooftops! It's official, we're the quickest selling and best performing estate agent in Chester.

Carman Friend is the best performing agent in Chester!
Back in September 2016, Carman Friend was born. For those of you who've been around since the beginning, thanks for sticking with us! We've made lots of new friends on this journey and couldn't have done it without our fabulous buyers and sellers. So, when we see data like this crop up, it makes us remember how hard we've worked and how far we've come since those early days. You may remember our round-up post this time last year. We had some great figures for January 2018 including 134 viewings arranged, 9 sales agreed and 86 new applications registered. Now, take a look at this…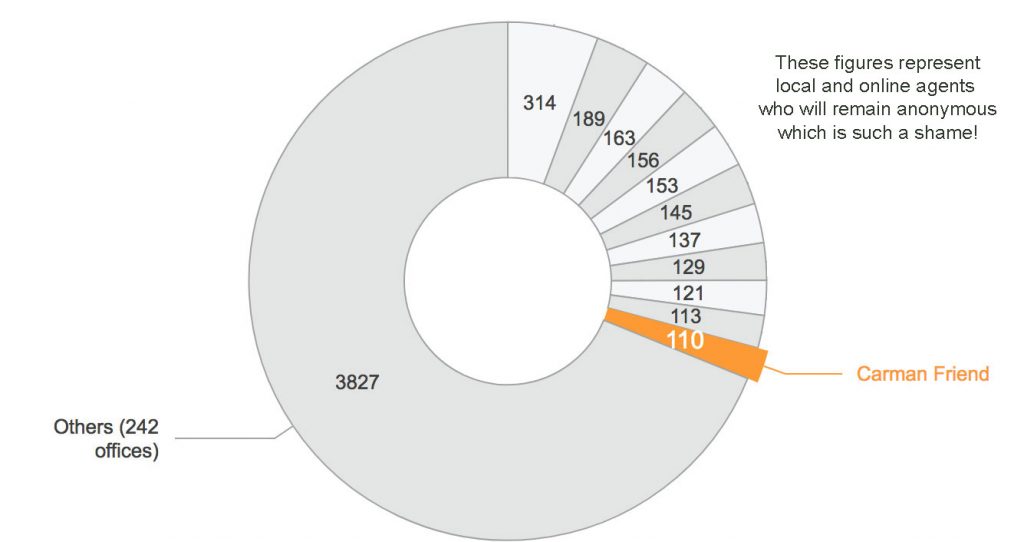 This graph represents time on the market for Chester's estate agents – using data from October 2018 to January 2019. As it states in the image, the figures on the right represent some of the biggest estate agents operating within Chester. However, we've had to remove the names and keep things anonymous for obvious reasons! This is such a shame as they will surprise you, especially as some of them and their TV ads state differently to what is actually happening… As you can clearly see, we've smashed it! The properties under Carman Friend spend an average of 110 days on the market. That's pretty impressive, especially when the market in Chester is so saturated with a variety of well-performing estate agents. We're really pleased to have achieved the quickest sales in the area over the past few months!
The current state of the UK housing market
Just to put things in perspective, we thought we'd add a quick update on the overall state of the UK property market. According to Nationwide, house price growth has 'stagnated' in January. Prices have increased by just 0.1% since the same time last year! There are a few reasons behind this including economic uncertainty and seasonal factors. It's important to remember that the growth of the property market is measured by mortgages approved and property transactions – and these have 'remained broadly stable' over the past few months. However, overall, there is a little dip in expected growth. This information makes us all the more proud to be selling our properties so quickly and helping people into their new homes!
How we strive to be the best
Now, we don't just get to boast about these figures without some hard work. There's a reason we come out as one of Chester's best-performing agents time and time again. We strive to be the best by truly offering something different in this saturated market – first-class service, decades of combined experience, in-depth knowledge of local areas and a wide range of marketing tools at our disposal. Check out this blog post to see why picking the right estate agent can boost your chances of a sale!
As always, don't hesitate to get in touch with us if you're looking to sell your home, buy a new one or simply need some advice on property in Chester (and surrounding areas!). We're excited to be the first point of contact on your property journey.